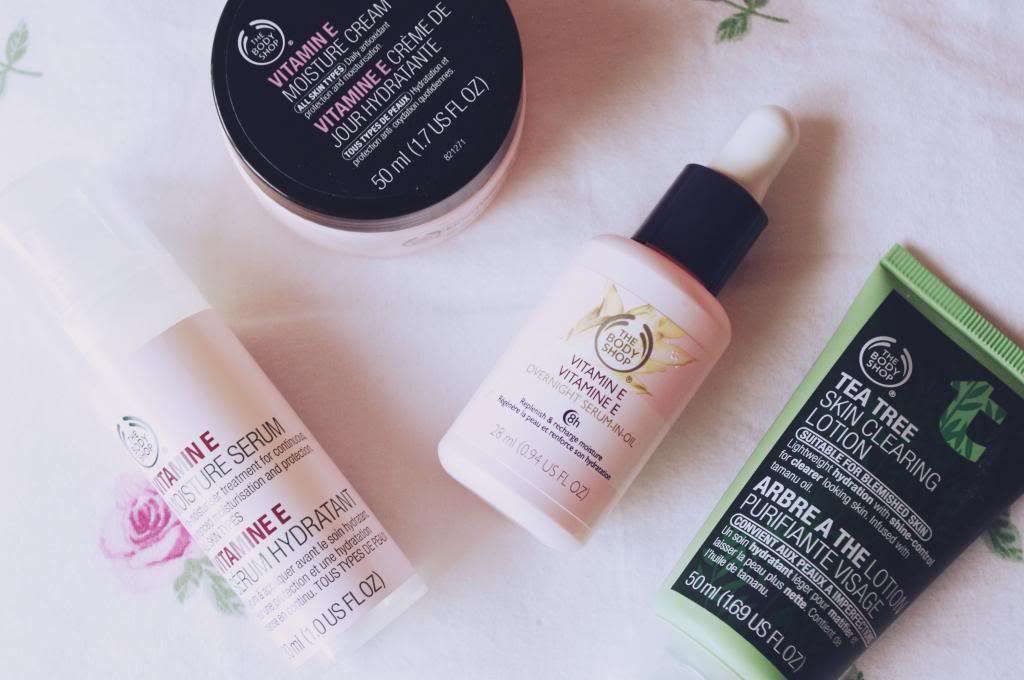 Short trips at home tend to dry out my skin which I'm guessing is from the change to hard water. Therefore my normal moisturisers weren't doing the trick and my skin just went horrible and patchy and wearing make up was a nightmare. A friend of mine works in Body Shop and recommend I tried a couple of products from their vitamin E range to help inject some moisture into my skin.
So I overdosed in the vitamin E products and ended up purchasing the
Vitamin E Overnight Serum-In-Oil
,
Vitamin E Moisture Serum
,
Vitamin E Moisture Mask
,
Vitamin E Moisture Cream
, and the
Tea Tree Skin Clearing Lotion
which is pretty self explanatory. I know right, a hell of a lot of vitamin E you got there my friend!? I kid you not though, these products have done exactly what they promised.
I changed my skin care routine as soon as I bought these so that I now double or triple cleanse depending on how much make up I've been wearing that day, before using my new Body Shop products. I'll put the Tea tree lotion on my problem areas first (which is just my whole face to be honest), and once that has sunk in, I'll use the Vitamin E serum before smoothing on one of the moisturisers and finally climbing into bed.
I've definitely seen an improvement and I'm really impressed with the Overnight Serum-In-Oil. I was using a rosehip oil previously and that was working well at clearing scars and brightening my skin, but wasn't exactly a king when it came to moisture. However, lathering my face in this vitamin E oil before I sleep reveals a plumped, smooth face in the morning, creating the perfect base for make up.
I'd recommend all of these products and really don't know how I was living without them considering I've gone from being very oily in my teens to desert-dry now approaching my 20's. Hopefully I'll have things more under control from now on, apart from that pesky week each month where any kind of skin care routine goes out the window and I just want to tear my whole face off.
follow me | twitter | bloglovin' | instagram | facebook | pinterest
This post is not sponsored, I'm just really impressed with The Body Shop skin care range at the moment!