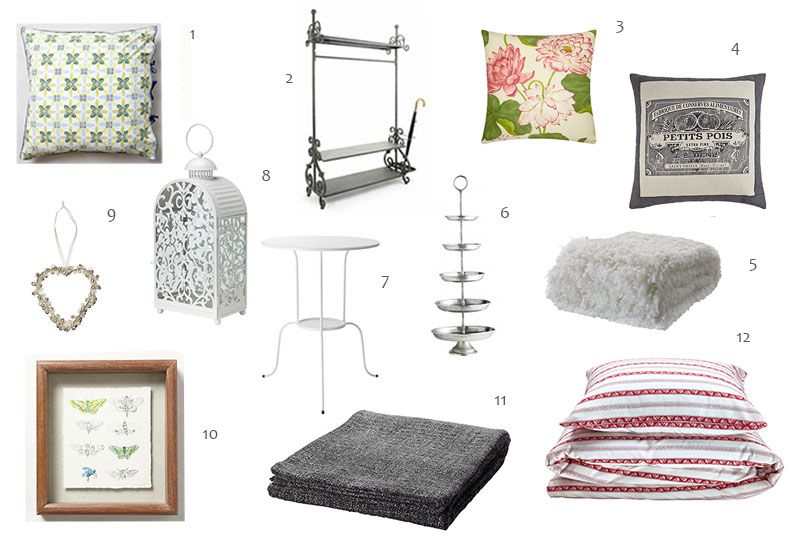 1 Anthropologie cushion | 2 Out There Interiors clothing rack | 3 John Lewis cushion | 4 John Lewis petits pois cushion | 5 Ikea cream fluffy bed throw | 6 Out There Interiors etagere - or jewellery stand | 7 Ikea bedside table | 8 Ikea lantern | 9 John Lewis heart | 10 Anthropologie framed print | 11 Ikea grey bed throw | 12 Ikea bedding
Some of you may remember that I'm in the (long) process of redecorating my bedroom at home. It was an overload of pink and full of old memories so that coming home from Uni almost meant stepping back in time to when I was at secondary school and had a completely different group of friends. Therefore, I'm slowly but surely getting rid of old things and a lot of pink, and replacing them with creams and clean things for a more relaxing space and new memories.
I've been wanting to replace my dark wood wardrobe with a clothing rack for months now as I feel it will take up less room and perhaps make me realise how many clothes I actually have but don't wear.. I love this one from
Out There Interiors
, complete with shoe shelf, clothing rail and umbrella stand, it's a perfectly decorative piece to add interest but still be useful. This site has some lovely high quality affordable pieces that really add a bit of somethin' somethin' to a room.
Obviously (in my eyes) no bed is complete without a mountain of throws and pillows. These
cushions from John Lewis
will add some colour to my predominantly cream room, as well as this beautifully printed
Anthropologie one
that has ties on the side to finish off the intricate details.
No room is complete without some decorative pieces and pretty storage, like this make shift silver
jewellery stand from Out There Interiors
that will really brighten up a boring dressing table. Hang a
heart
over your bed post,
pin a drawing
on the wall, and a few candles in some pretty
lanterns
on a
bedside table
and you're all set!
follow me | twitter | bloglovin' | instagram | facebook | pinterest