You may have noticed in a couple of my posts towards the end of last year that I wasn't in the most relaxed of moods, shall we say. Unfortunately, my skin paid for all the trials and tribulations of last semester, and only now have I got it back to tip top condition. I'm sure the 10 days of alpine air played a part, but I also wanted to share with you the products that played their part too. Beauty posts are a bit of a novelty here, but I'm actually a
secret
toiletries/skin care hoarder, so thought it was about time I shared with you some of my current holy grails.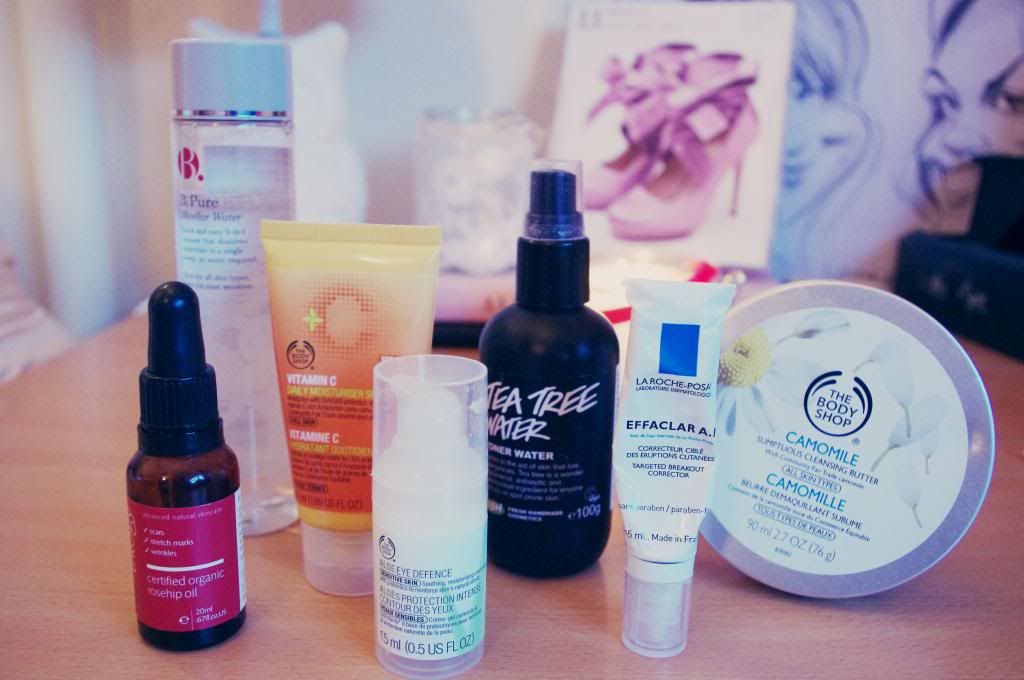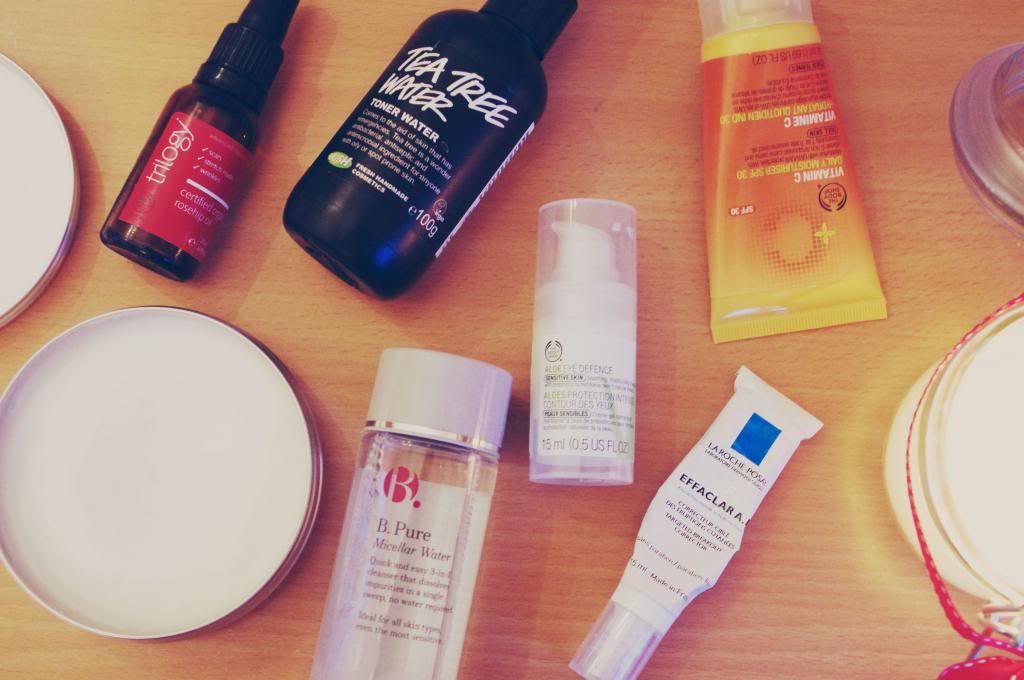 - The
Body Shop Camomile Cleansing Butter
reminds me a little of soft wax (weird I know) but then melts onto your skin, removing all dirt and make up. It's gentle, soothing, and doesn't dry out my skin at all or leave it that angry red colour. Rinse off with a muslin cloth and my face is left bright and clean.
- The
Body Shop Aloe Eye Defenc
e is a cooling eye serum that I use every evening to relax sore/tired eyes and reduce the appearance of bags. This has been working like a dream despite it being the first eye cream/serum I've actually tried. My eyes are bright and don't have that puffy I-haven't-been-crying-all-night-I-swear look.
-
La Roche-Posay Effaclar A.I
Targeted Breakout Corrector is a spot fighting serum. And I mean it. If I notice a blemish coming (you know those ones that brew for days until finally breaking through) then I rub a little of this on in the evening and by the morning it's almost 100% gone. Cheeks have been my problem area recently so I've got in the habit of dabbing some of this serum on in the evening and by the morning they are instantly less red and bumpy; I love it!
-
Lush Tea Tree Water
I use this pretty much every day as a toner and an antiseptic. It can leave my skin feeling a little dry so I avoided using it whilst skiing (we all know the cold is a survival of the fittest in moisturisers moment) but it's perfect at cleaning out my pores and freshening up my face in the morning as I don't like to cleanse too much when I wake up. It cools angry skin and prevents black heads from gate crashing the party.
-
Trilogy Certified Organic Rosehip Oil
A few years ago my skin type was oily - to the point where I didn't even own a face moisturiser. As I weaned myself off acne treatment and came to the end of puberty, it became a lot more dry and is now a combination. So oils have never been something I'm particularly interested in. However, after
Kate
recommended this Trilogy one, obviously I couldn't say no. The bargain paid off and even though I find it a little uncomfortable going to sleep with a greasy feeling face, I wake up bright eyed and plumped with reduced redness and soft skin. It's gradually been working it's magic on my acne scars too so hopefully one day they'll all be gone (that's a very apprehensive hopefully there).
- The
Body Shop Vitamin C Daily Moisturiser SPF 30
has been a saviour to my sallow stressed skin. It's kept dry patches at bay and brightened my overall face. It's thick but not greasy and is absorbed quickly without leaving a dewy finish.
- The
B. Pure Micellar Water
has been a late comer to the party after buying it on a whim when I was in a vulnerable bad skin day state. However, it's a saviour when I'm too tired (or can't be bothered) to cleanse properly; I just pop a few drops on a cotton pad and smooth all over my face to remove all make up and dirt. It does leave my skin feeling a little wet, but I'm reassured in knowing there are no traces of grime or mascara left to aid any pesky blemishes.
So there you have it, the loss of my beauty post virginity and hopefully a few new products for you to try :) Fingers crossed this wasn't too wordy for those who are used to short and sweet outfit posts or photo heavy recipes!
follow me | twitter | bloglovin' | instagram | facebook | pinterest