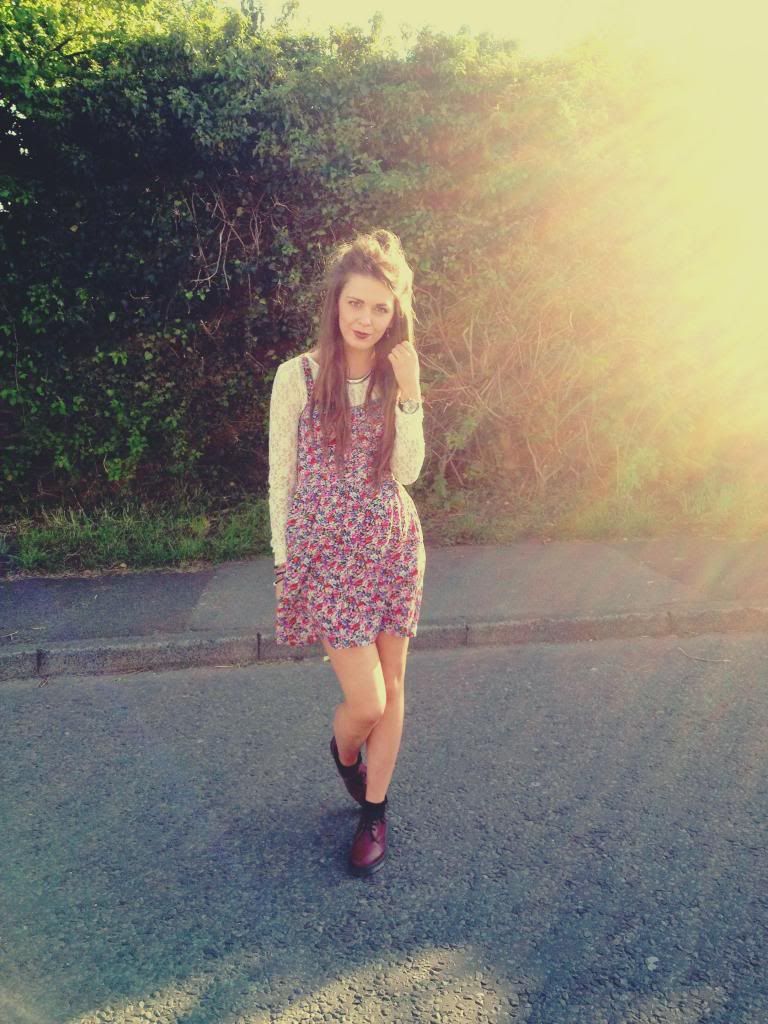 Hi everyone! I'm Stacey and I blog over at
Pretty Delicate Layers
, I'm guest posting for the lovely Sophie today as she's going to be a busy bee this week! I'm a fashion and style blogger so I thought a simple outfit post would be perfect for you to get to know me a little bit more :) I absolutely love getting inspiration for outfits from other bloggers, so I'm hoping mine helps a little.
I can't express how bad I am at dressing appropriately for the summer and heat, I just love covering up for some strange reason! The other day it was boiling hot and sunny out and I decided it would be ok to go out wearing all black with only my arms out, I mean my arms were out, how much more summery can I dress haha! My sister actually made me go back upstairs and change my entire outfit that day so this is why I ended up wearing the outfit in this post. I decided to get my legs out, as you do! I ended up in this little dress from New Look that has been sitting in my wardrobe for years (literally). I decided to pair the dress with this long sleeved, but very airy lace top I picked up a while ago in River Island. I love the look of lace tops under denim dresses and dungarees lately so decided to do something similar but with this dress. I also wore my very beautiful Dr. Martens which I just love a little too much at the moment, but they add a little edge to any outfit, so why not :)
I think I need to set myself a goal for the summer, which will be to make the most of the sun and dress for those hot days. I think I may just be really bad at judging how hot it actually is when I'm in the comfort of my bedroom… I should probably start going out in the garden just before getting ready, I think this would solve my summer dressing issues! But surely I'm not the only person like this, am I?
Hopefully I will stick to my summery dressing task, pop over to
my blog
if you'd like to have a peek now and then at what I have been wearing! I hope you enjoyed my guest post and thank you to the lovely Sophie for letting me have my little moment on Simple Sophie! I feel very privileged :)